Rev. Doug Gebhard, Interim Pastor
Doug (as he prefers to be called) grew up in Penn Hills, did his undergrad work at Pitt, and received his M. Div.. from Pittsburgh Theological Seminary. He's a hometown boy. His early ministry was with installed positions but he eventually discerned a calling to interim/transitional ministry. Certified in interim ministry in 1998, Doug has served churches in PA, NC, FL and NY. He's also served a Moravian congregation in NC and, most recently, a Lutheran church in Western PA. He specializes in helping congregations through the pastoral call/placement process. Doug and his wife Dr. Susan Gebhard ("Dr. G.") have been married for 28 years. Susan is an educator and has been a classroom teacher, school administrator, college professor, and is currently a gifted support provider. They have three grown children: Xandra (Adam), Mairé, and Mac. They live in Sewickley with their Golden Doodle "Yankee" and Irish Wolfhound "TirNa."
Toni Schlemmer, Office Manager
Our new Office Manager, Toni Schlemmer also serves (evenings and weekends) as Director of Fine Arts at Calvin Presbyterian Church, Zelienople. She has been directing and producing the church's drama ministry since 1990. Toni is a professional singer and has performed onstage in and around Pittsburgh for over 25 years. She served as Office Manager for Trinity Evangelical Lutheran Church in Wexford. Toni and her husband Brendon Wahlberg, live in Avalon with their hound dogs Hank and Dottie.
Kellyn von Arx, Assistant Director of Youth and Families
Kellyn joined the Union Church Staff in October, 2015.
Since graduating from Geneva College, Kellyn has used her talents to serve the Lord in many communities, including Downtown Pittsburgh and the North Side. She is excited to bring those talents and experiences to Union, and in building new relationships here.
Kellyn enjoys spending free time with her husband, Drew, daughter, Lorelei, and dog, Perla.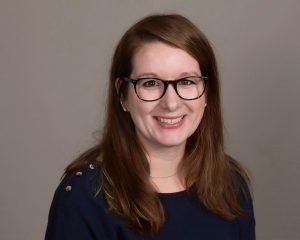 John M. Seybert, Ph.D., Director of Music Ministries
I have over fifteen years' experience as a music director and educator. I served congregations in Indiana, Florida, and Pennsylvania. I received a Bachelor of Music degree from Grove City College, a Master of Music degree from Butler University, and a Doctor of Philosophy degree in music education from the Jacobs School of Music, Indiana University in Bloomington, IN. I am blessed to serve the congregation at Union Church. I have a passion for music ministry and outreach in our community. I enjoy working with people of all ages, abilities, and walks of life as we give our gifts and talents to pursue excellence for God's glory!
I am Associate Professor and Coordinator of the Music Education Program at Seton Hill University, Greensburg, PA. I have published research in various international and national peer-reviewed journals. I am also an active performer, clinician, and soloist. Previous to my graduate studies, I taught music in nationally recognized elementary, middle, and high school music programs in Indianapolis, IN.
My wonderful wife, Misty, is a counselor and instructor for various undergraduate and graduate psychology programs. We have two children, Amelia and Claire, who are great blessings in our lives. We also have a golden retriever named Lucy. If I am not working, I enjoy writing, reading, running, and biking. I also enjoy professional baseball, football, ice hockey, and college basketball. If I had a choice of another career, I would be a writer or author. I also enjoy traveling throughout the country and in Europe.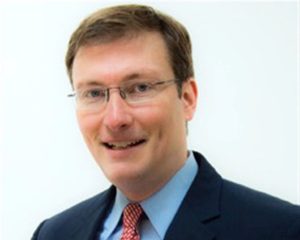 Cindy and her husband Rick are Union members. Cindy's bio coming soon.
George Shumek, Financial Secretary
George is Union Church's Financial Secretary. George handles the accounting for the weekly offering and prepares the tithe and offering tax statements.
George has been a member of Union Church for over 40 years and enjoys extending this service to the church.
George and wife Suzanne are residents of Robinson Township. They are retired and enjoy traveling and visiting their grandson in Florida.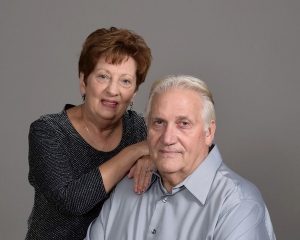 Taylor von Sternberg, Union Christian Academy Director
I have been with UCA since 2018, but recently became the Center Director in October 2021. Since graduating Indiana University of Pennsylvania in 2016 with a B.S. in Child Development and Family Relations, I have worked in the field of Early Childhood Education, and truly believe that it is my calling. It is a true blessing to have found Union Christian Academy. I love watching the children flourish and develop a relationship with God over their time at our center. Providing quality care and education for each individual child is my top priority. I have a daughter, Paisley, and a dog, Sawyer, who I adore! Paisley attends UCA, and I couldn't ask for a better place for my daughter during her early years.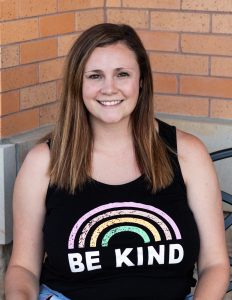 ​Sally Andrews, Pastoral Care Coordinator
Sally has lived in Robinson for almost 80 years. Growing up, she walked with her mother and sister to Sunday School and church. Since then, she has raised her daughter in Union Church and is now sharing the importance of her church home and family with her three grandchildren. 
It is rumored that Sally can answer almost any question about the last 75 years of this church – or at least she knows where to go to find the answers.
 This church on the hill has been a major part of her life and she prayerfully serves with the hope that others may find Union Church a vital part of their lives as well. 
In her role as Pastoral Care Coordinator, Sally serves to reach out to the congregation and helps keep the pastor informed when members are in need of support, whether physical or spiritual.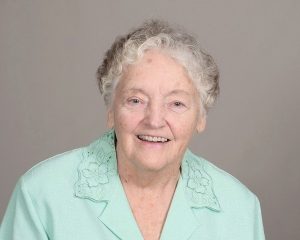 Sue Shumek, New Member Coordinator
Sue (Suzanne) is Union Church's New Member Coordinator as well as serving as a Deacon. 
Sue has been a member of Union Church for over 40 years and enjoys graciously receiving visitors and guests to worship at Union Church.
Sue and husband George are residents of Robinson Township. They are retired and enjoy traveling and visiting their grandson in Florida.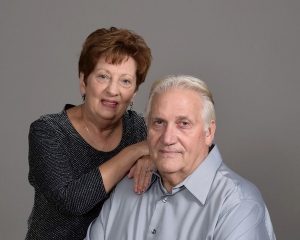 I recently became the Sexton in March of 2022. That same month I also became a member of Union for which I am very proud. I am married to Kathy Pfaub Thomas. I retired eight years ago after working over 40 years in downtown Pittsburgh where I worked mainly in large law firms as a supervisor of mailroom functions. Since retiring I have worked at many part-time jobs. We have lived in Moon Township for 35 years. We both enjoy bowling and walking.